What We Do…
Emerald Invitations provides a distinctive combination of custom and catalog invitations, as well as hand and machine calligraphy, designed to make your wedding day memorable and uniquely yours. We work hard to ensure each piece is designed and executed with the highest quality craftsmanship and reflects each couple's own style and personality. Contact us today for a private appointment.

Interesting News and Happenings
With all the details that go into planning your wedding day, it's easy to become distracted. Recently, a bride-to-be accidentally sent a wedding invitation via text to a couple of strangers — who decided to show up! Here, the hysterical results.
Kristen thought she was letting her friends know the address for her wedding photo-shoot and barbecue, but one of the messages was sent to a man she had never met. At first the stranger responded in typical fashion with, "Who is this?" But what happened next was far from your every day response. The man told her, "You have the wrong number but me and my boys will be there."
When Kristen tried to rescind her invitation, the stranger ignored it responding, "We still coming." The phrase has since become an Internet sensation and is now a trending hashtag on Twitter. That stranger wasn't kidding and when he turned up with his friends, the bride decided to include the wedding crashers in one of the best photobombs of all time. Check it out: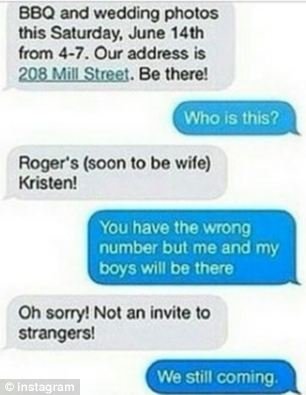 Photo via Instagram

Photo Credit: Adam Farkes
There is speculation that the photo could be an elaborate fake, but it is still hilarious nonetheless!
UPDATE:
The worst day of Brandi Kaufman's life was also the day she met her future husband. Firefighter Dustin Blair not only saved Brandi's life after a fatal accident, but he gave her a reason to live again. Grab some tissues because their incredible love story is sure to bring tears to your eyes.

Photo Credit: Brandi Kaufman on Instagram
On March 29, 2012, Brandi Kaufman, her 18-year old younger sister Stephanie, and her sister's friend Savanah Pierce decided to go for pizza a few miles from home. Brandi was worried that the used car that their mother had recently purchased was unsafe but Stephanie assured her it was fine and insisted on driving. Just minutes later, their car slammed into an embankment and slid 15 feet off of the road. Savanah was killed on impact and Stephanie was left unconscious and covered in blood.
When firefighter Dustin Blair arrived on the scene, he ran to rescue the girl who was still trapped in the car. Every time Dustin and the paramedics moved Brandi, she would scream and resist their rescue efforts. "It was clear she was in terrible pain — she was whimpering, Dustin told Cosmopolitan, and then when I touched her, she started cursing at me. It took time, but I finally managed to place a plastic C collar on her neck to stabilize her spine and head. I had no idea where her injuries were and knew I had to protect her spine in order to prevent further injury. Once she was secure, the other guys pried the door open. That felt like forever."
As much as we love interactive stations, creative photos and personalized touches galore, the "fun" factor of any wedding really boils down to just one question: Did guests break it down on the dance floor? Just ask this grandpa, who unwittingly became an Internet sensation after tossing his crutches and showing us all how it's done!
Skip to the 1:27 mark to see how he gets not one, but two ladies to join in the fun. Now that's what we call commitment.
This wedding video was originally uploaded on Facebook and is believed to have originated from Peru. The poster captioned it "eternamente joven," which translates to "forever young." We'll have whatever he's having, thanks!
—Stefania Sainato