What We Do…
Emerald Invitations provides a distinctive combination of custom and catalog invitations, as well as hand and machine calligraphy, designed to make your wedding day memorable and uniquely yours. We work hard to ensure each piece is designed and executed with the highest quality craftsmanship and reflects each couple's own style and personality. Contact us today for a private appointment.

Interesting News and Happenings
September 22 marks 20 years since Friends premiered on NBC. During the show's decade on the air, we witnessed plenty of weddings (and Ross was responsible for "just like half of that"). The lessons learned are just as relevant today. Here, the top 20: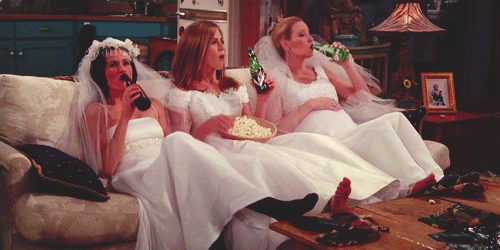 1. Don't over think the proposal
Chandler tried to throw Monica off guard by pretending he hated marriage, and he almost lost her to ex-boyfriend Richard. And Mike got so caught up in planning a perfect (albeit cliché) proposal for Phoebe, from using the big screen at a game to hiding the ring in a slice of cake in a restaurant, that he lost track of what really mattered. Eventually, Monica proposed to Chandler (or at least tried to, until she was crying too much to get the words out — "There's a reason why girls don't do this!"), and Mike realized a simple proposal was all he needed: "I keep trying to propose in these stupid ways, and all I want to do is tell you that I love you, and I want to spend the rest of my life with you."
2. But do make sure to actually ask the person to marry you
Friends taught us that just because someone is down on one knee holding a ring, it doesn't mean that he's proposing.
For many fathers, the most emotional part of the wedding day is when he walks his little girl down the aisle. One dad made it even more special by singing "Walk With You" by Edwin McCain as he and his daughter made their entrance. What a perfect song for the moment! And the dad's voice is pretty incredible, too. Watch the sweet video:
Plus, check out our favorite father-daughter moments ►
—Kristen Klein
Before their wedding, Michael and Jessica agreed to skip the tradition of giving each other a gift. Jessica found a way around that promise by writing a a heartfelt letter, but Michael planned something a little bit more elaborate. After the couple sha...