What We Do…
Emerald Invitations provides a distinctive combination of custom and catalog invitations, as well as hand and machine calligraphy, designed to make your wedding day memorable and uniquely yours. We work hard to ensure each piece is designed and executed with the highest quality craftsmanship and reflects each couple's own style and personality. Contact us today for a private appointment.

Interesting News and Happenings
In the most highly anticipated wedding of the year, Angelina Jolie and Brad Pitt tied the knot on August 23. This week's People and Hello! magazines will be filled with exclusive photos and details from the intimate celebration. Here's what we know so far!
1. Just 20 people attended the wedding, which was held in the chapel of Chateau Miraval, the family's estate in France. Pitt's parents, brother, and sister all attended the wedding. Jolie's father, Jon Voight, reportedly did not.
2. The couple's six children all participated in the wedding ceremony. Maddox, 13, and Pax, 10, walked their mother down the aisle. Zahara, 9, and Vivienne, 6, tossed flower petals gathered from the garden. And Shiloh, 8, and Knox, 6, served as the ring bearers.
3. One of the ring bearers dropped a ring! No word on who was the guilty party, but Jolie told Hello!, "They all took it very seriously. Knox practiced carrying coins and acorns on his little pillow before he got the ring."
4. The couple certainly didn't splurge on ceremony music — Pitt hummed "Here Comes the Bride" as Jolie walked down the aisle.
5. When the newlyweds shared their first kiss as husband and wife, Shiloh buried her head in the ring pillow to keep from laughing out loud.
6. The kids helped write their parents' vows. We can't wait to hear them!
Lauren Conrad celebrated her bridal shower on Sunday, and her friends and family members perfectly captured the designer's girly aesthetic.

Photo courtesy of Allison Norton via Instagram
Gorgeous paper flowers made for a beautiful photo backdrop: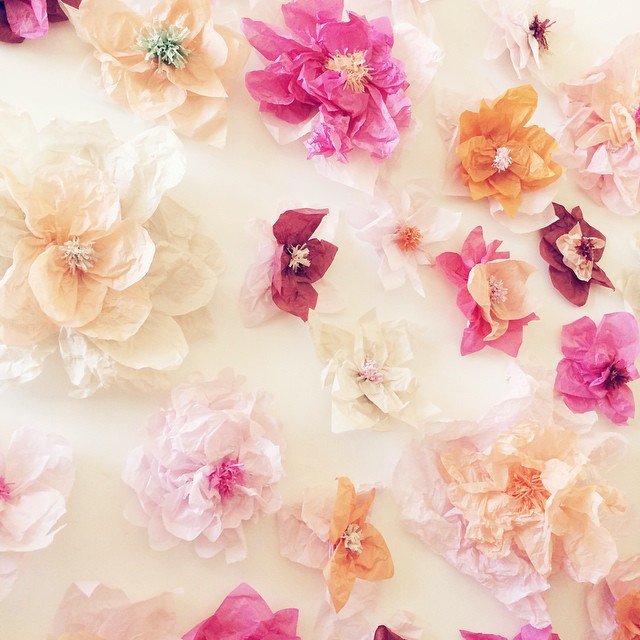 Photo courtesy of Alex André via Instagram
Conrad and fiancé William Tell are reportedly set to marry in October. Cocktail napkins featured "Almost Mrs. Tell" and the hashtag of the day, "#TellMeYouLoveMe":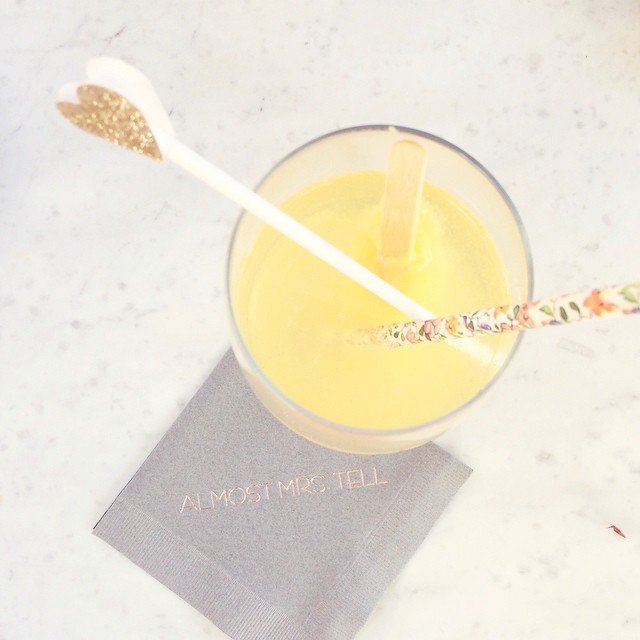 Photo courtesy of Alex André via Instagram
Ever since announcing their engagement, Angelina Jolie and Brad Pitt have emphasized how important the idea of marriage had become to their kids. So we knew that their six children would be very involved in the wedding — but we didn't expect to see their handiwork on the wedding-day attire! Jolie wore a custom silk-satin gown by Versace, and the master tailor at Atelier Versace, Luigi Massi, incorporated artwork by the kids.
"Luigi is like family to me and I couldn't imagine anyone else making this dress," Jolie told People. "He knows and cares for the children, and it was great fun putting it together."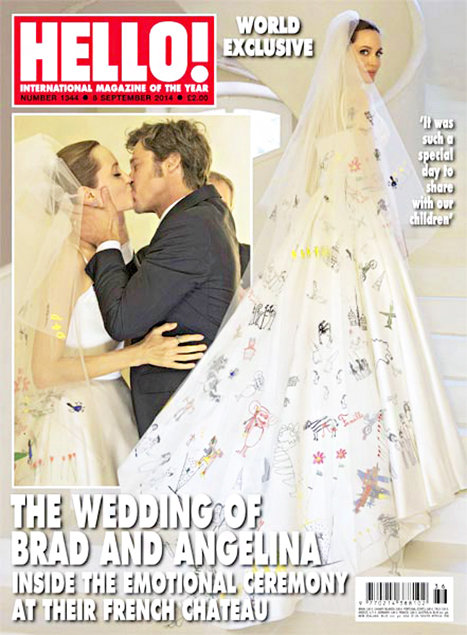 "It was important to us that the day was relaxed and full of laughter. It was such a special day to share with our children and a very happy time for our family," the couple told Hello! magazine.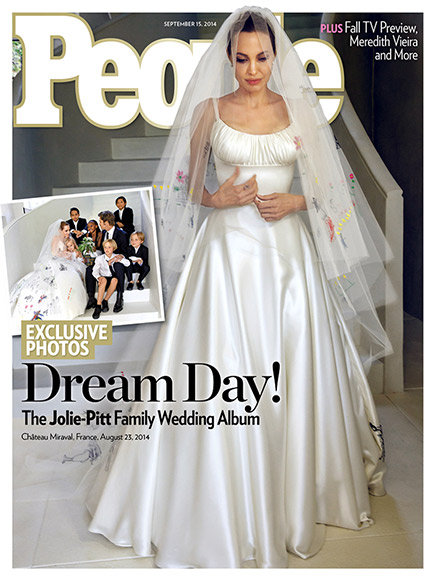 Tell us: What do you think of the dress?
—Kristen Klein